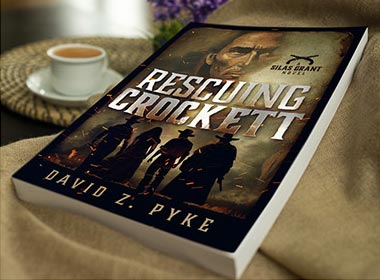 David Z. Pyke is a native Texan related to one of the Alamo defenders. His great-great-great-great-great-granduncle, Isaac Millsaps, was one of the Immortal 32, the reinforcements from Gonzales who answered William Barret Travis's call for help, rode to San Antonio, and died in the Alamo on March 6, 1836.
Pyke began writing professionally in 1975 and has written for newspapers, magazines, and websites.
In 1991, a mutual friend introduced David to Suzanne, an English literature teacher from Missouri. Their first date was on Friday the 13th. Suzanne later confessed that before that first date, she read some of David's stories to see if he could write. Apparently, he received a passing grade. They were engaged five months later, married four months after that, and in 2022 celebrated their 30th anniversary.
Do you believe Crockett survived the Alamo?
"No. David Crockett died on March 6, 1836. I no more believe Crockett survived the Alamo than Clive Cussler believed Titanic was raised, Andy Weir believed an astronaut was stranded on Mars, Seth Grahame-Smith believed Abraham Lincoln hunted vampires, Larry McMurtry believed Judge Roy Bean was shot and hanged, or Colson Whitehead believed a secret network of tracks and trains existed beneath the Antebellum South."
Do you believe Crockett was killed in battle or captured and executed?
"There's insufficient evidence to persuade me one way or the other. The death of David Crockett is a case study in the fallibility of witness testimony. There were at least thirteen witness accounts - including versions in which Crockett was captured and executed - but many of them directly contradict one another on significant details."
Is this book just for Texans?
"No. You don't need to be Danish to enjoy books about Vikings, Greek to enjoy books about Spartans, Italian to enjoy books about Romans, or British to enjoy books by Bernard Cornwell. You don't need to be a Texan to enjoy Rescuing Crockett."